SHIPPING ALERT:
Our shipping department will be closed Friday December 8 through Thursday December 14. Orders placed during this time will ship Friday December 15. As a thank you for your patience, enjoy 15% off your order with code: CHEER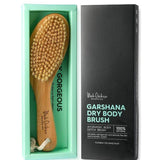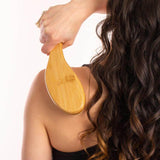 Description

Dry brushing for smoother, softer skin

Before showering take a moment to gently exfoliate your skin. The simple practice of dry brushing not only feels great— but gently sweeps away dead skin cells and energizes to reveal smooth, soft, and glowing skin.

Gently sweep away dead skin cells on the skin's surface helping unclog pores and remove dry skin.

Ergonomic handle makes it easy to brush your back and other hard to reach spots.

Made from pure, natural sisal fibers and bamboo.

Dimensions: 25 cm (L) x 7 (W) cm
INGREDIENTS

Bamboo and natural sisal fibers.
HOW TO USE

How to use: Starting at your feet, lightly brush upward toward your heart (downwards from the shoulders). DO NOT USE ON FACE. Use gentle, small strokes moving upward or work in a circular motion.

Tip: Dry skin body brushing needn't take long, 5 minutes 2-3 times per week is all that is required, ideally before showering. Be sure to apply your favorite body oil or moisturizer to seal in moisture.
ABOUT THIS BRAND

Award winning Black Chicken Remedies is an innovative range of extraordinarily pure and effective products inspired by generations of therapeutic knowledge. Motivated by her own skin problems, Australian native Chey Birch began blending essential oils and therapeutic botanical extracts in a little black bowl with a chicken painted on it. From the start, her potent formulas, free of unnecessary additives, were created to work synergistically to nurture, rejuvenate and protect all skin types for radiant healthy skin at every age.

Made in Australia

---
Free shipping on orders $50+
Packaging: Recyclable Packaging