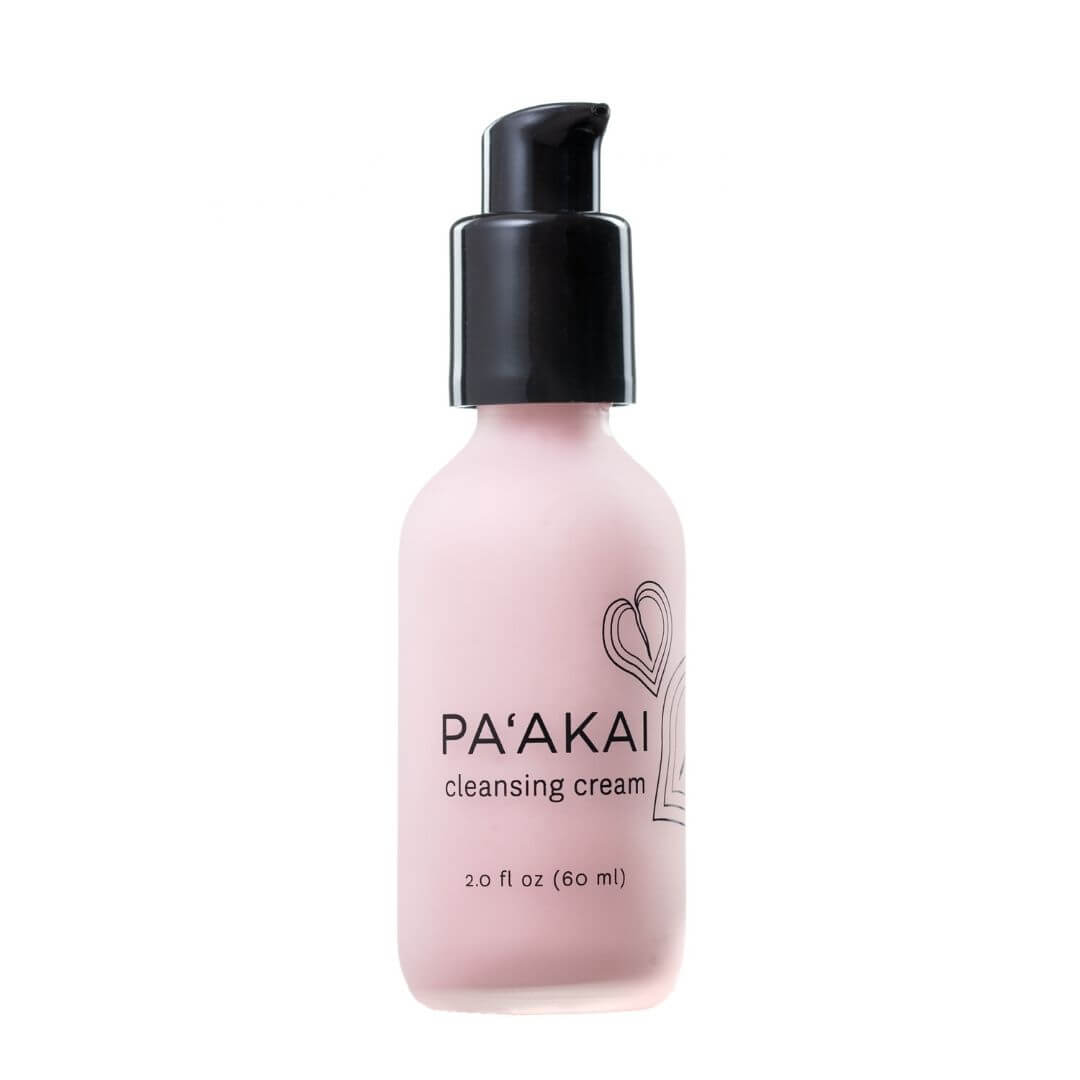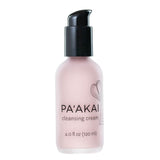 Description

A gentle cream cleanser that's tough on makeup


The Pa'Akai Cleansing Cream from Honua Skincare effectively removes dirt, makeup, and pore clogging pollutants without stripping your skin's natural oils.

Formulated with powerhouse Hawaiian botanicals including Hawaiian salt, hibiscus and seaweed extract to hydrate, balance and brighten skin with every wash. Hibiscus, a natural source of alpha-hydroxy acids (AHAs) also helps even skin tone, tighten pores and keep breakouts at bay.

Suitable for all skin types, this natural face cleanser will keep your skin healthy and balanced without any dryness or irritation.

Gluten Free. Vegan and cruelty free.
INGREDIENTS

Pure Vitalized & Coconut Water (Aqua), Organic Rose (Rosa damascena) Hydrosol, Organic Witch Hazel Water (Hamamelis virginiana), Wild Harvested Seaweed Extract (Fucus vesiculosis), Hibiscus( Hibiscus sabdariffa) Co2,Honua Pa'akai (Hawaiian Salt) Organic Herbal Oil Infusions of Rose Petals (Rosa damascena), Lavender (Lavandula angustifolia), Chamomile Flowers(Matricaria recutita), Calendula Blossoms (Calendula officinalis), Comfrey Leaf & Root (Symphytum officinale) & Rosehips Seeds (Rosa mosqueta) in Organic High Oleic Safflower (Carthamus tinctorius) & Sesame (Sesame indicum), Sorbitan Olivate, Organic Aloe Vera Gel (Aloe barbadensis), Organic Vegetable Glycerin, Organic Lecithin, Organic Gromwell Root CO2 (Lithospermum erythrorhizon), Sage (Salvia officinalis) & Organic Rosemary Antioxidants (Rosmarinus officinalis), *Lactobacillus Cocos Nucifera (Coconut) Fruit Extract and *Sodium Anisate *New Green Beauty Approved Preservative System
HOW TO USE

Apply 1-2 pumps of Pa'akai Cleansing Cream in your hand and gently massage on your face, add water to emulsify and rinse clean.

FACE MASK: To use as a face mask, spritz some Beauty Water in 2 full pumps of cleanser and mix together to turn it into a soothing face mask. Leave the mask on for 15 minutes before rinsing off with warm water .
ABOUT THIS BRAND

A fusion of Hawaiian healing wisdom and modern skin care technology, Honua Skincare products help restore skins natural vibrancy and radiance. At the heart of every Honua Skincare product are potent organic and wild crafted Hawaiian botanicals— intentionally chosen for their extraordinary benefits, quality and sustainability. By focusing on the root cause of major skin conditions, they work beautifully for all skin types and are especially beneficial for dull, dry, acne prone or sun damaged skin.
---
Free shipping on orders $50+
Ingredient preference:Vegan
Packaging: Sustainable Packaging Brand
Love!!
I love the Honua items I purchased and Patricia was very kind when i accidentally purchased with the wrong code. She refunded me and i was able to purchase this cleanser, Hawaiian beauty water, and Olena oil with the correct code. I really enjoy using these natural good for you products!!! Highly recommend this site♥️
Healing cleanser
Using this gentle yet transformative cleanser, my face enjoys the creamy feel of the formulation, my nose loves the subtle scent of slight rose, it never irritates my skin and feels so soothing! I enjoy using it alone or mixed into their oils or beauty water and masks! Highly recommend! I loved shopping here, they were incredibly kind and emailed me to inform me that soon Honua will offer larger sizes. They were so thoughtful to email that! I may have misplaced it and forgot to respond with my gratitude so I'm putting it here. What a beautiful website and products to choose from. I'll be back! Thank you so much!