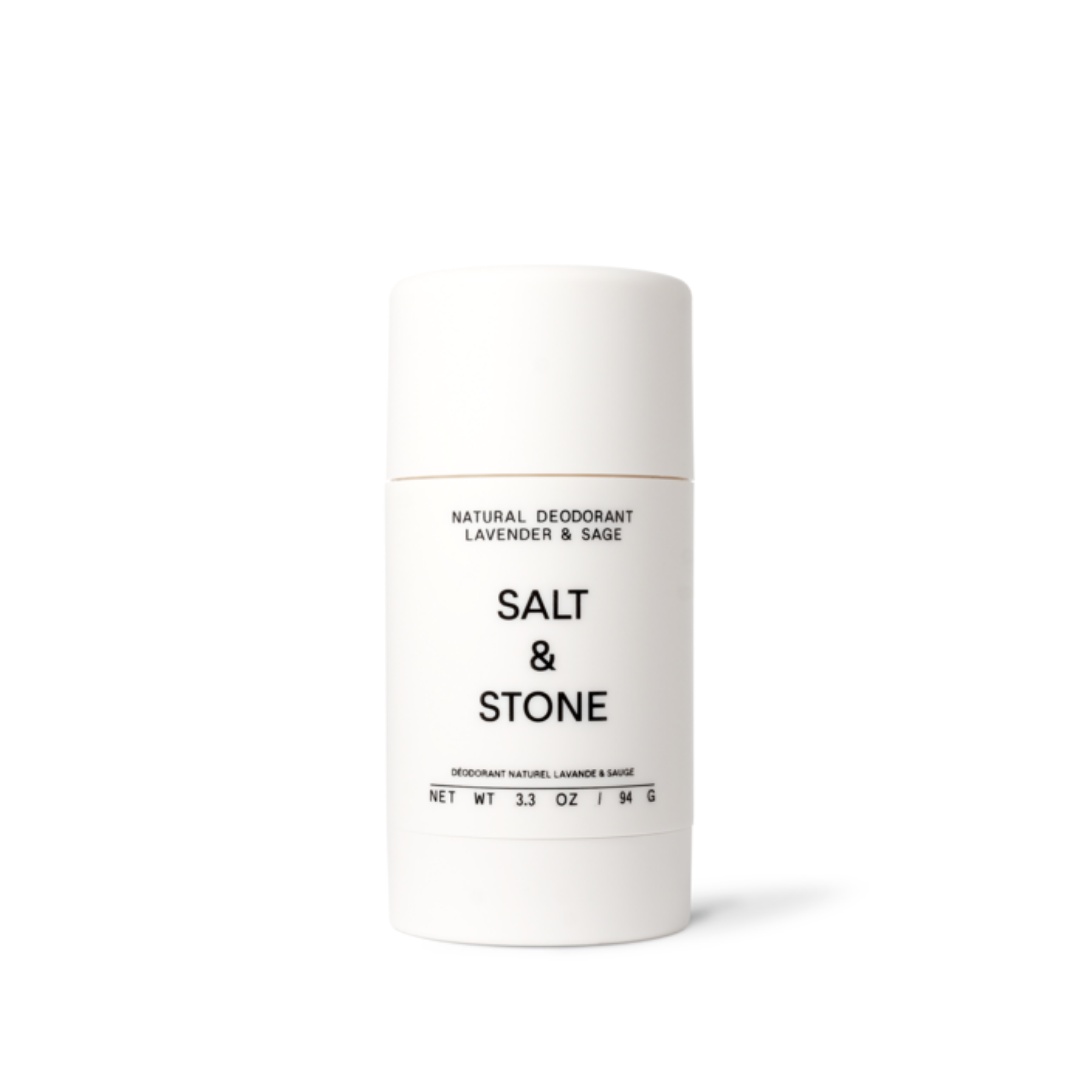 Salt & Stone Natural Deodorant - Lavender & Sage
$10.00
Regular price
$18.00
Description

A gentle, aluminum - free deodorant 

Salt & Stone aluminum free deodorant stick keeps you feeling fresh all day.

Made with gentle and non- toxic ingredients. Antimicrobial ingredients like lavender, rosemary and sage fight odor-causing bacteria, while arrowroot powder helps absorb wetness. Shea butter, jojoba oil and coconut oil soothe and hydrate skin. It glides on smoothly – no residue or staining.

Lightly scented with lavender.
Ingredients

Arrowroot Powder, Coconut Oil, Baking Soda, Candelilla Wax, Shea Butter, Caprylic/Capric Triglyceride, Jojoba Seed Oil, Lavender Oil, Clary Sage Oil, Sunflower Seed Oil, Rosemary Leaf Extract, Tocopherol, Soybean Oil, Sunflower Seed Oil Glycerides.
How to use

How to use: Swipe 1-2 time on each armpit. Allow a few minutes for the deodorant to absorb into skin before dressing.

Non-greasy, non-sticky feel. Easily absorbed. Only a small amount is needed.
About the brand

Salt and Stone is a unisex brand from Los Angeles, California offering reef-safe sunscreen; natural deodorant and skin care products. Founded in 2017 by Nima Jalali, a former professional snowboarder who knows a thing or two about protecting the skin having spent long periods training and competing in harsh conditions. Nima set out to create superior sunscreen and body care products using sustainably sourced ingredients — free from artificial fragrances, sulfates, petrochemicals, parabens, phthalates or GMO's. Salt & Stone packaging is recyclable and made from post-consumer recycled materials and manufactured by renewable solar and hydroelectric energy.
Free shipping on orders $50+
Salt & Stone Natural Deodorant - Lavender & Sage
$10.00
Regular price
$18.00
FAQ

Frequently asked questions

Does Salt & Stone Natural Deodorant contain aluminum, parabens, sulphates, petrochemicals, artificial fragrances, preservatives or colors?
 No, absolutely not! The Lavender & Sage Deodorant is made with natural ingredients and free of any toxic chemicals.

How long will Salt & Stone deodorant stick last? This depends on how much you use and how often you apply it - but feedback from customers is generally 3 to 4 months with daily use.

How often do I need to reapply Salt & Stone deodorant? 1-2 swipes generally lasts all day. We recommend reapplying after exercising or any time you don't feel fresh.

Can I use it on smelly feet? Yes. Customers tell us a tiny amount between toes works wonders.

Does Salt & Stone Deodorant expire? After opening, use within 12 months for maximum effect.

After using Salt & Stone Deodorant stick, I noticed a slight skin rash. Why is that? Some people are sensitive to the sodium bicarbonate found in natural deodorants. Avoid applying deodorant after shaving or if armpits are irritated. Do not apply more than recommended 1-2 swipes. If you still experience irritation - you may be sensitive to sodium bicarbonate and we recommend trying Black Chicken Remedies Axilla Barrier Booster for sensitive skin.