SHIPPING ALERT:
Orders place Thursday December 7 will ship today. Our shipping department will be closed Friday December 8 through Thursday December 14. Orders placed during this time will ship Friday December 15. As a thank you for your patience, enjoy 15% off your order with code: CHEER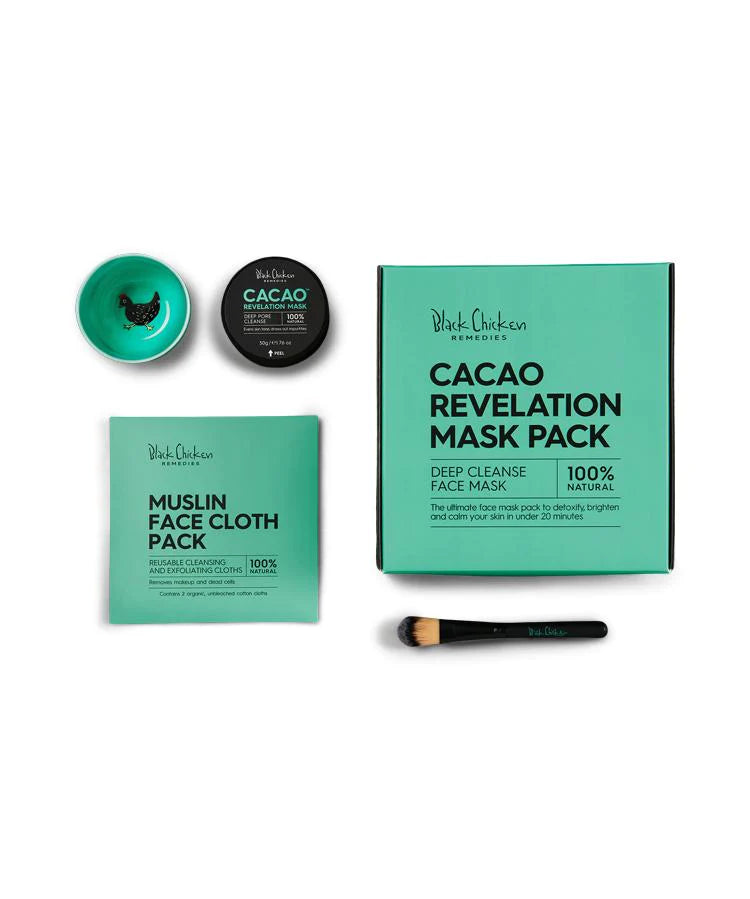 Cacao Revelation Natural Face Mask
Description

Smooth, calm and deeply cleanse your face in under 20 minutes

This purifying facial mask gets down deep to rid skin of pollutants and excess oil to help keep skin healthy and clear. Natural clays deep clean pores while raw organic cacao gives skin an antioxidant boost to smooth, refine and balance your complexion.

Powerful enough to draw out impurities yet gentle enough to restore moisture.
Reduces the appearance of wrinkles.
Smooths, refines and balances complexion.
Mix fresh at home when you need it – the dry powder lets you create the freshest most potent mask possible.

This set contains everything you need to create a purifying mask, fresh at home. Set includes Black Chicken Remedies mixing bowl, face mask brush and 2 pack of 100% organic muslin face cloths in a handy travel bag.

Skin type: Ideal for all skin types including oily, dry and acne prone skin.
INGREDIENTS

Face Mask: White Kaolin Clay (Kaolin Clay), Theobroma Cacao* (Cocoa), Pink Kaolin clay (Pink clay), Aloe Vera* (Aloe Vera powder), Camellia Sinensis (Green tea powder), Commiphora Myrrha (Myrrh powder), Olea Europaea Leaf Extract (Olive powder). Certified Organic ingredients*

Set includes: Face Mask, Vegan Face Mask Brush, Ceramic Mixing Bowl and a travel bag.
HOW TO USE

Make a paste by blending one teaspoon of mask powder with about 1/2 tsp water in the ceramic bowl using your brush. Add a little more water if you prefer a thinner mask. Apply to your face and neck using our mask brush, avoiding eye area. Relax for 15-20 minutes then remove with warm cloth. Discard any excess.

Apply twice weekly or as needed. For maximum potency and longevity avoid water getting in the jar.
ABOUT THIS BRAND

Award winning Black Chicken Remedies is an innovative range of extraordinarily pure and effective products inspired by generations of therapeutic knowledge. Motivated by her own skin problems, Australian native Chey Birch began blending essential oils and therapeutic botanical extracts in a little black bowl with a chicken painted on it. From the start, her potent formulas, free of unnecessary additives, were created to work synergistically to nurture, rejuvenate and protect all skin types for radiant healthy skin at every age.

Made in Australia

---
Free shipping on orders $50+
Ingredient preference:Vegan
Packaging: Recyclable Packaging
Cacao Revelation Natural Face Mask