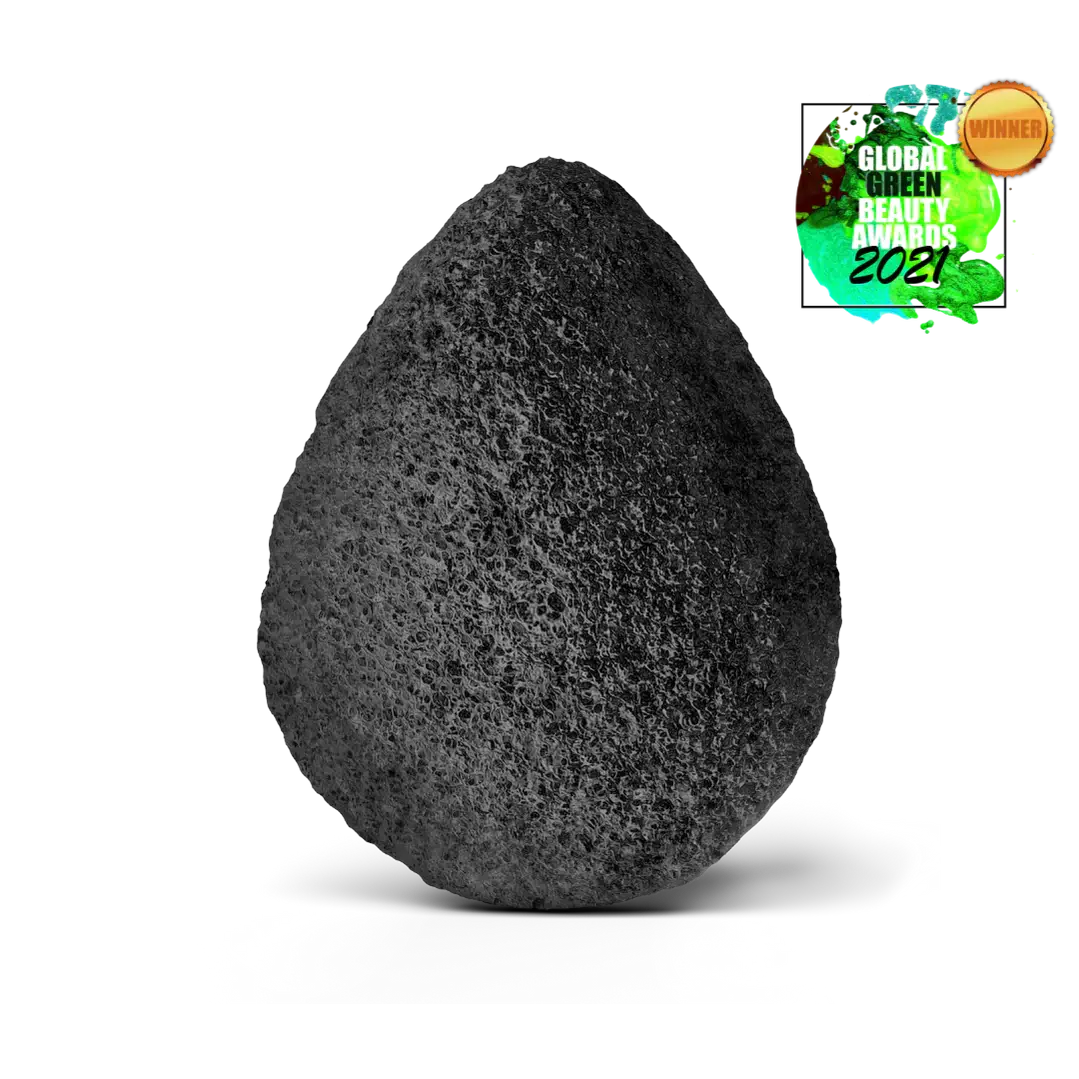 Konjac Sponge With Activated Bamboo Charcoal
Description

Konjac sponge with activated charcoal for a super gentle clean

This biodegradable bamboo charcoal sponge gently yet effectively removes grime, oil, and makeup from even the most delicate skin. It can even be used as a "beauty blender"! Simply hydrate your konjac sponge with warm water before use and hang to dry when you're finished. Can be used with or without cleanser.

Unique texture gently removes dirt, oil, dead skin cells, and even stubborn makeup without irritating skin.
Softer and more effective than a traditional face cloth or hands alone.
Versatile sponge can also be used to apply your favorite primer, illuminator, or bb cream, such as face glow.
Suitable for all skin types including, acne–prone, sensitive skin, oily and dry skin.
Biodegradable, compostable konjac plant fiber.
Dermatologist and clinically tested. Non-irritating and hypoallergenic.

Size: About 3 inches wide and jelly-like when wet, this vegan sponge is the perfect size to fit in your hand (or travel bag!).
INGREDIENTS

Made with 100% biodegradable konjac plant fiber and bamboo charcoal
HOW TO USE

Soak the konjac sponge in water until it becomes soft. Squeeze to expel excess water. Apply your favorite Graydon cleanser to the sponge and gently massage your face. Rinse your face with warm water. After use, rinse clean and squeeze dry. Hang in a cool, well-ventilated place to air dry. Replace every 2-4 months.

If applying makeup, set the sponge aside while applying your skincare. After applying your moisturizer or primer, use the damp sponge to evenly apply your foundation or Face Glow. Cleanse and rinse the sponge thoroughly after use and hang in a cool, well-ventilated place to air dry.

TIP: Use with a cream cleanser like Graydon Aloe Milk or Honua Pa'akai Cleansing Cream or both!

ABOUT THIS BRAND

Graydon Moffat is the founder and superfood mixologist behind Graydon Skincare. Her culinary skills as a vegan chef and background in holistic wellness led her to start formulating topical products with superfood ingredients that feed your skin from the outside in. In her products you'll find all your favorite, plant powered, vegan, results-driven ingredients (like botanical retinol, peptides, vitamin C, hyaluronic acid and niacinamide), all of which are dermatologist and clinically tested, hypoallergenic, non-irritating, vegan as well as cruelty-free.


---
Free shipping on orders $50+
Packaging: Sustainable Packaging Brand
Konjac Sponge With Activated Bamboo Charcoal