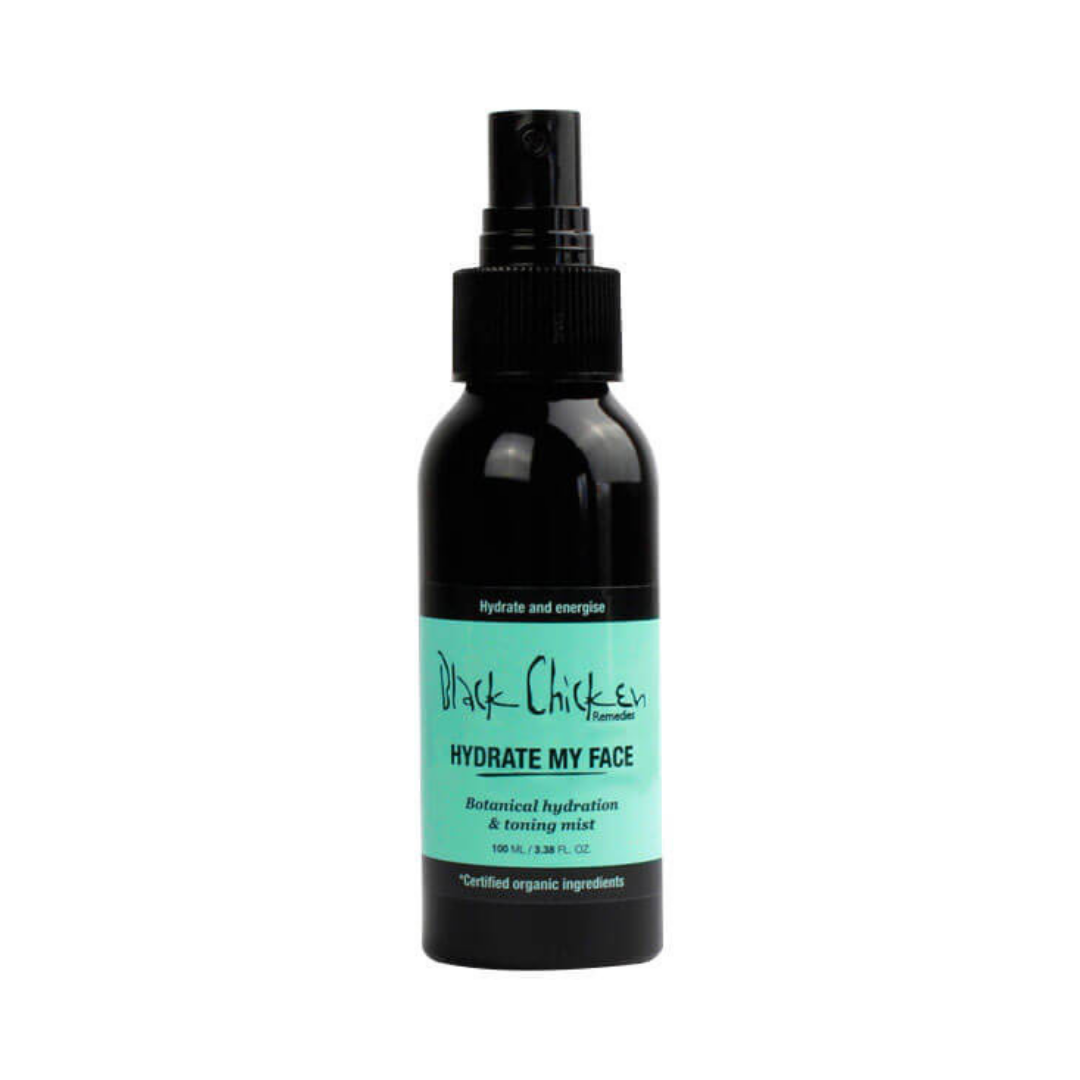 Hydrate My Face - hydrating face mist
$29.75
Regular price
$35.00
Description

A hydrating and toning face mist to refresh and soothe skin or enhance makeup.

Mist on Black Chicken Remedies Hydrate My Face for a boost of soothing hydration and a dewy complexion. Soothing chamomile and lavender floral water hydrate skin while witch hazel tones and rebalances. The gorgeous scent of organic mandarin and pink grapefruit essential oils helps calm and lift your spirits.

Spray it over or under makeup - or whenever in need of a mid-day pick-me-up.
Ingredients

Matricaria Recutita (Camomile floral water), Lavendula Angustofolia (Lavender floral water), Hamamelis Virginiana (Witch Hazel), Citrus Paradisi* (Pink grapefruit essential oil), Citrus Reticulata* (Mandarin essential oil). *Certified Organic
How to use

Spray your face freely 2-4 times during the day or whenever your skin needs an instant pick me up. May use on sunburn for extra soothing.
About the brand

Award winning Black Chicken Remedies is an innovative range of extraordinarily pure and effective products inspired by generations of therapeutic knowledge. Motivated by her own skin problems, Australian native Chey Birch began blending essential oils and therapeutic botanical extracts in a little black bowl with a chicken painted on it. From the start, her potent formulas, free of unnecessary additives, were created to work synergistically to nurture, rejuvenate and protect all skin types for radiant healthy skin at every age.

Made in Australia

Free shipping on orders $50+
Ingredient preference: Vegan and Natural & Organic Ingredients
Packaging type: Recyclable Packaging
Hydrate My Face - hydrating face mist
$29.75
Regular price
$35.00
FAQ

Frequently asked questions

Can face mist be used as setting spray? Yes. Professional makeup artists use Hydrate My Face to prime skin with a moisture boost before applying makeup. They also use it to set makeup after it is applied.

Why do I need to use a facial mist? Air conditioning, heaters and dry winter air can dry out your skin. Regularly spritzing skin with a facial mist like Black Chicken Remedies Hydrate My Face helps keep your face hydrated and skin plump and vibrant.

Can I use Black Chicken Remedies Hydrate My Face if I have breakouts or acne? Yes. Hydrate My Face contains plant oils known for their ability to help calm and soothe inflamed skin. If you are concerned about sensitivity – spritz on a small area first and wait an hour. If no irritation occurs – spritz on skin as needed.

What is the shelf life of Black Chicken Remedies Hydrate My Face? Unopened, products have a shelf life of 24 months. After opening, all products should be used within 12 months for maximum effect

Are Black Chicken Remedies natural skincare products suitable for sensitive skin? Black Chicken Remedies are perfect for sensitive skin. They do not use harsh detergents, chemical preservatives or artificial fragrances that can irritate the skin. If you have concerns about a particular skin conditions, we suggest you purchase a sample pack and do a small patch test first