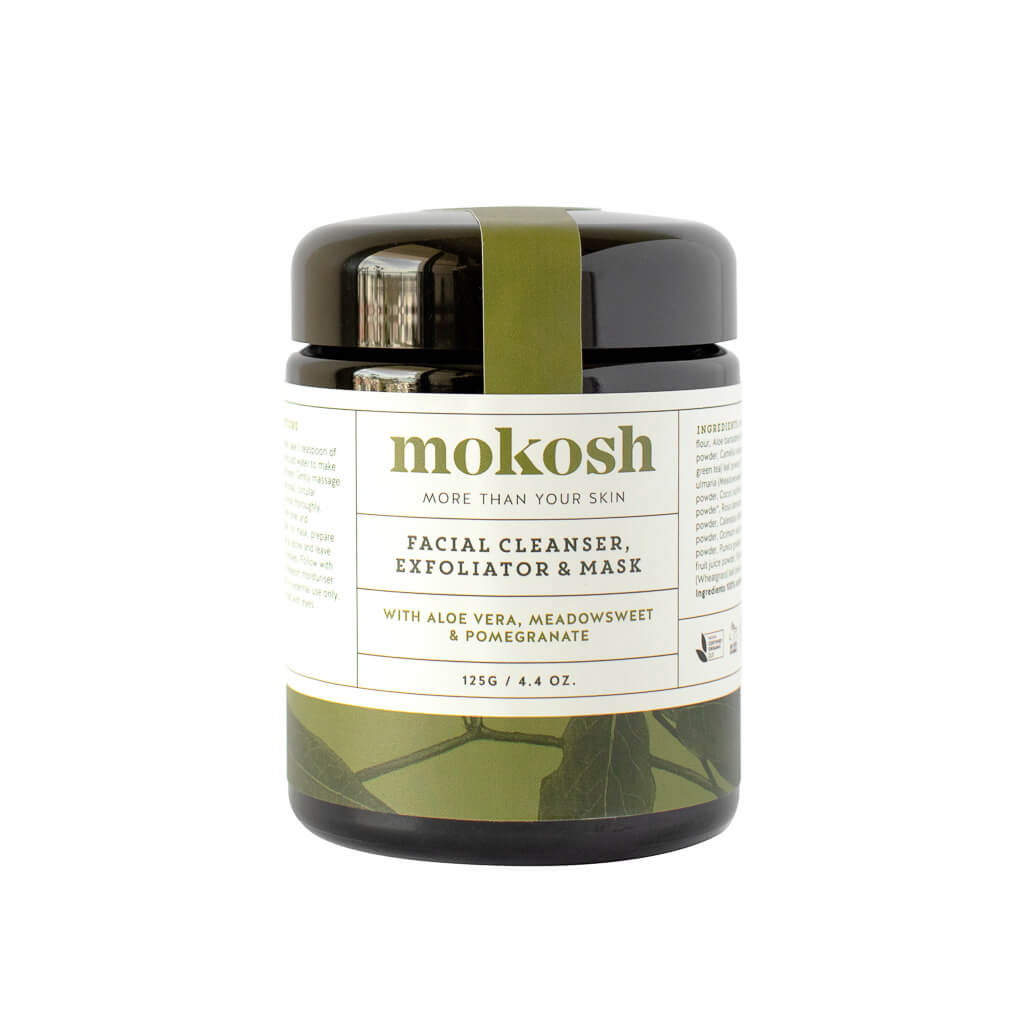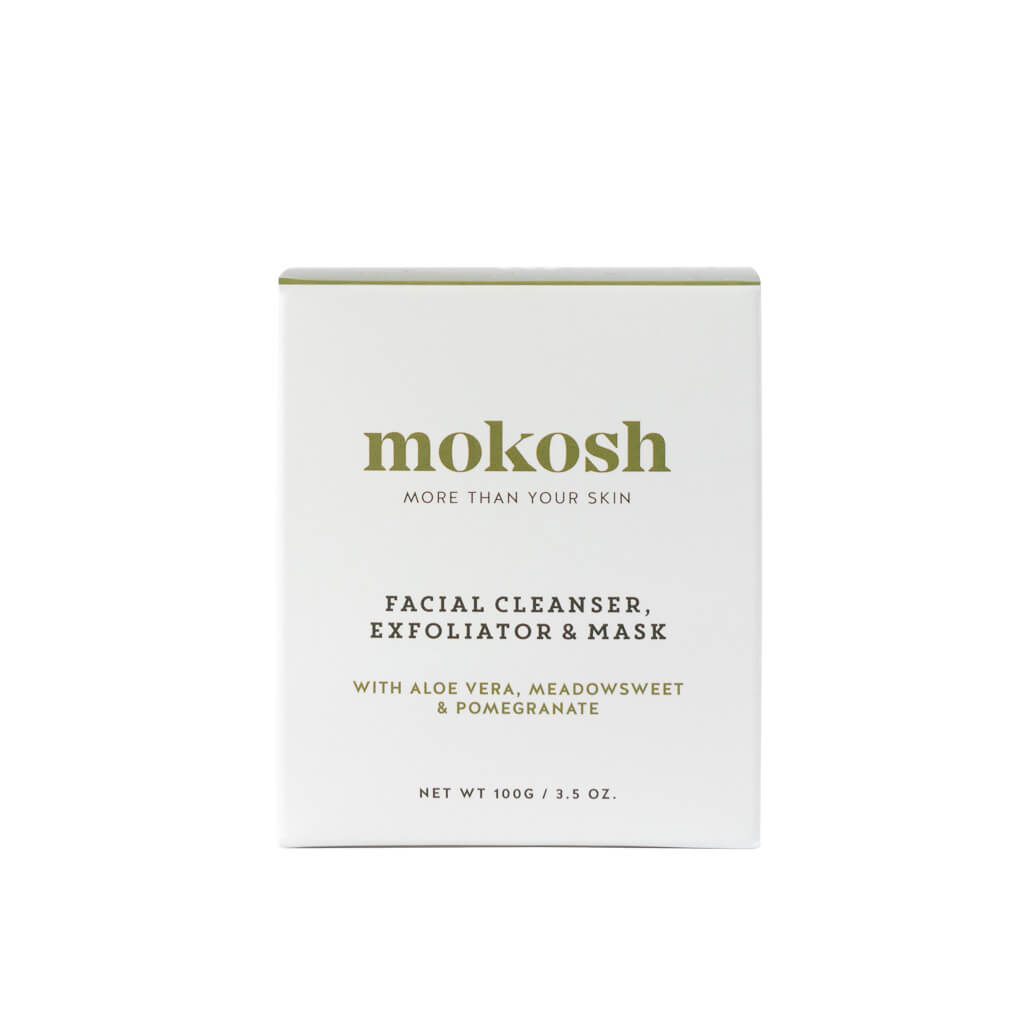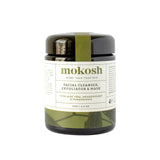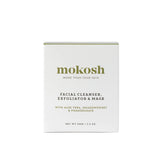 Facial Cleanser, Exfoliator & Mask
Description

A gentle exfoliating cleanser for all skin types

Temporarily unavailable from manufacturer

This award winning exfoliating facial cleanser from Mokosh Skincare cleanses thoroughly while being exceptionally mild and soothing on skin. With a few drops of water, it transforms into a light face scrub dissolving build-up and impurities paving the way to brighter, smoother, healthier looking skin.

Made with a blend of 10 powerful herbal extract powders including organic oats and aloe vera to soften and soothe skin and coconut powder to lightly exfoliate. Meadowsweet and pomegranate fruit juice powder — natural sources of AHA & BHA (alpha & beta hydroxy acid) — gently dissolve dead skin build-up, excess oil and help keep pores clear.

Gently cleanses and exfoliates without stripping moisture.
Doubles as a calming and detoxifying face mask.
Cleanses, refines and refreshes skin.
For all skin types, including sensitive.
Water activated formula retains its full potency.

Awards:

FINALIST: Best Organic Product: Pure Beauty Global Awards

2020 WINNER: Exfoliator/Cleanser Australian Non-Toxic Awards

2019 EDITOR'S CHOICE: Facial Cleanser, Exfoliator & Mask (Beauty Short List Awards 2019)

WINNER: Best Multitasker Healing Lifestyles Earth Day Beauty Awards 2018
INGREDIENTS

Avena sativa (oat) flour, Aloe barbadensis (Aloe vera) gel powder, Azadirachta indica (Neem) leaf powder, Filipendula ulmaria (Meadowsweet) leaf/flower powder, Cocos nucifera (Coconut fruit) powder⁺, Rosa damascena (Rose) flower powder, Calendula officinalis flower powder, Ocimum sanctum (Tulsi) leaf powder, Punica granatum (Pomegranate) fruit juice powder, Triticum aestivum (Wheatgrass) leaf powder.

Ingredients 100% certified organic. ⁺Fair trade. Vegan. Palm oil free.
HOW TO USE

For daily cleansing: Mix approximately 1 teaspoon of powder with water to form a smooth paste. Lightly massage over wet skin, avoiding eye area, for a gentle cleanse and exfoliation. Be careful not to apply pressure. Rinse thoroughly with cool water. Apply your favorite toner, serum and/or moisturizer while skin is still damp for maximum absorption.

For face mask or spot treatment: Leave on for 10 – 15 minutes or until skin begins to feel tight. Rinse thoroughly and follow with your favorite toner, serum and/or moisturizer.
ABOUT THIS BRAND

Pure concentrated nutrition for your skin. Founded on the belief that good skin is simple, Dr Marion O'Leary thoughtfully blends modern science and ancient Ayurvedic traditions to bring out the very best in your skin. The unique concentrated formulas are handcrafted using pure ethically sourced organic ingredients. In addition to being free of water, preservatives, fillers and synthetic fragrances, Mokosh Skincare is also palm oil free and boxes and glassware are recyclable.
---
Free shipping on orders $50+
Ingredient preference:Essential Oil Free, Vegan, and Certified Organic
Packaging: Sustainable Packaging Brand
Facial Cleanser, Exfoliator & Mask
So far, so good
I've only used this product once as an exfoliating face mask, and it did not irritate my skin or cause redness. I have Erythematotelangiectatic rosacea (hypersensitivity, chronic redness, compromised moisture barrier), so I'm nervous about exfoliating, but was impressed with the ingredients in this mask so decided to try it since they say that exfoliation is important—even when you have sensitive skin like mine. I mixed 1/4 tsp of the mask with an equal amount of water and applied it to my face with a spatula.
Marvelous Mask!!!
I have very sensitive skin and this mask is great!